On Sunday, July 21st, I was able to finally join my friends at Yuan Zhou's Monthly Workshop! Though I was originally unable to go, I'm glad that I was able to make it out!
The day began as always with a tsumego on the demonstration board.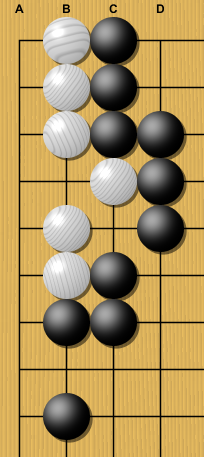 Though I had the correct answer at one point, I talked myself out of it by misreading the order of moves. As a result, I unfortunately can't proudly say I solved it with confidence. Haha. But in terms of what I gained from that experience, I need much more work on my life and death skills. I'm decent with some of the instinctual moves, but I need to be better in terms of being absolutely sure of my answer.
After my friend Gurujeet answered the question correctly, we moved on to reviewing a professional game between Lee Sedol [9P] and Lian Xiao [4P]. It was an exciting game that really helped to open my eyes. Some of the major things I learned from the flow and tenacity of the players include: