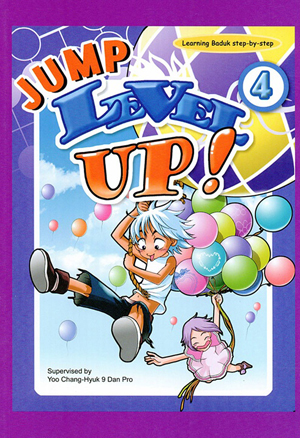 Jump Level Up 4
Description: Jump Level Up 4 is the fourth volume of the intermediate counterpart of the Level Up! Series that serves as a workbook in private go schools in Korea. Though designed for children, the content and practice provided is invaluable for adults and children alike.
Book Details
Title, Jump Level Up 4
Series, Jump Level Up
Author, Lee Jae-Hwan
Translators, Lee Seong-Geun & Daniela Trinks
Supervisor, Yoo Chang-Hyuk (9P)
Publisher, Baduktopia
Published, "May 25th 2012"
Language, English
ISBN, 978-89-90965-90-5
Length, 167 Pages
Table of Content
Glossary
Baduk in a Sauna
Baduk Terms in Four Languages
Liberties of Eye Spaces - Answer or Play Elsewhere?
Connections and Cuts
Life & Death: Using Weak Points and Vital Points
Escape from Nets & Challenge with a Ko
Spin Around Ladder & Loose Ladder
Star Point Joseki 11
Opening Sample 1
Next Move
Knight's Net and Bamboo Joint Vital Point
Life & Death: Weak Points, Mutual Life, 3 Stones
Life & Death and Capturing Races (Review)
Opening Sample 2
Haengma 1: Cut on the Opposite Side & Capture the Cutting Stone
Baduk Around the World
Tesuji for Increasing and Reducing Liberties
1-2 Vital Point & Direction of Tiger's Mouth
Haengma 2: Double Hane and Stretch After Crosscut
Opening Sample 3
Nose Attachment & Stone Pagoda Squeeze
Spinning Around to Make a False Eye
Opening Sample 4
Life & Death: Loose Connection, Twisted Four, Symmetry
Star Point Joseki 12
Opening Sample 5
Endgame Tesuji
How to Answer
Level Tests
Before I Read This Book…
As a mid to high SDK (i.e., single digit kyu) player, I was expecting to see the same quality of content from previous volumes. In addition, I was hoping that I would be able to solve most problems with relative ease while finding some problems challenging.
My Review
Once again, Lee Jae-Hwan has managed to sweep me off my feet when it comes to providing incredible content that really got my brain working. There were countless sections in here that I always knew about but really appreciated getting a chance to truly practice. Examples include: Identifying Seki, The Loose Connection, The Stone Pagoda, Hane Twice to Gain a Liberty, etc.
Overall, I felt that the problems definitely started to increase in difficulty. While some problems are still very easy to solve and have very obvious solutions, there were numerous times where I had to really start looking at variations before concluding what my answer was going to be. I really appreciated this gradual increase in difficulty.
Finally, some of you will notice that my "Things to Improve" section has become more of an Errata section (i.e., errors that I found). Although I still love the book and the series as a whole, there were a few more errors than I would have liked to have seen and some sections that weren't as clear as they could have been (i.e., Cut On the Opposite Side).
Nonetheless, this is still a wonderful addition to the series, and I'm looking forward to the next one!
Synopsis
What did I enjoy about the book?
A very nice emphasis on evaluating seki positions.
Has the reader practice "fake nets."
Does not hesitate to bring back basics like reading the ladder.
Really trains a lot of skills players often overlook like identifying vital points, hane twice to gain a liberty, and loose ladders.
What did I gain from reading this book?
More comfortable with my ability to recognize seki positions.
Increased familiarity with various nets and reading out whether they work or not.
Increased confidence in reading out variations of basic life and death sequences.
What is the format of the book?
The book is primarily structured as follows:

(1) A one page explanation of the topic that you are about to practice. Example: When behind in liberties. They not only show the sequence for the proper technique, but also include common mistakes and brief explanations as to why they are mistakes.
(2) A set of very easy to understand and follow practice problems to ensure you understand what you are learning.
What aspect can be improved on?
Page 65 (#11) - Not a great example of bamboo vital point.
Page 66 (#5) - Answer is not the actual weakpoint. The 4-1 point is the weak point.
Page 69 (#4) - No solution available. Answer is the 4-1 point.
Page 94 Solutions - Label misprint. Skipped #10.
Page 122 (#12), Page 123 (#18), and Page 128 (#18) are identical problems.
Page 127 (#12) - In the wrong section. Different problem than expected. A save black problem in a kill white section.
Page 128 (#18) - In the wrong section. A kill white problem in a Save black section.
Page 143 (#22) - Again. Seems out of place. Problem's solution is to maximize Black's profit and not reduce White's.
Page 148 (#3 Solution) - Wrong diagram. The answer should be the solid connection at 4-2 point. The tiger's mouth at 4-1 works as well but leaves a ko threat of an atari at 3-2 and is therefore inferior to the solid connection.
Is this book easy to read?
Yes. Other than a few odd grammatical structures, it doesn't get much more simple or straightforward than this.
Bottom Line
Continues to live up to the quality of content you come to expect from this series.
Completely worth your time and money!
Recommended For…
Though the series is designed for kids, both kids and adults alike will be able to learn everything they need to know about playing go in a fun and entertaining way.
People who enjoy learning things in an easy to understand format and lots of opportunities to reinforce what they are learning.
Where Can I Buy It?
Yellow Mountain Imports - $13.00 USD (shipping and handling not included)
Baduktopia - E-mail them at info@baduktopia.com for more information.
Other Books in This Series…
Jump Level Up 4
Jump Level Up 5
Jump Level Up Answer Book
Level Up Series
Last Updated on October 20th, 2013